How Hardscaping Can Transform Your Outdoor Areas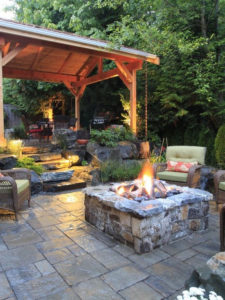 How to Make the Most of Your Outdoor Spaces with Hardscaping
Landscaping adds beauty and value to a house. Until they sell the house, its owners will enjoy outdoor living, entertainment, and comfort amid beautiful surroundings. Adding hardscaping to the mix provides more than just beauty. Hardscaping has many benefits which add to the value of the house.
This type of landscaping includes gravel, paving stones, stone walls, rock gardens, water features, pergolas and gazebos, patios and decks, retaining walls, fountains, walkways, and driveways, as well as ponds. When these things are arranged in a certain pattern or manner, they add to the aesthetic beauty of your landscaping.
Stones in walkways, paths, and outdoor flooring has an environmental impact as well. Some property conditions can and do go undisclosed when a house is sold such as drainage problems. Terraces, patios, and the stone floors of outdoor rooms direct water away from the house. How can hardscaping transform your outdoor living space?
Hardscapes Add Interest To Outdoor Rooms
A balanced mixture of hard and softscaping adds texture and functionality to your outdoor living space. Even if it's only gravel surrounding a flower bed beside the patio or building paving stone decks around your swimming pool, hardscaping your outdoor room is like hanging paintings on the walls indoors. It adds to the beauty surrounding you.
A patio or deck with a picnic table and grill is just that: a patio or deck with a picnic table and grill. Adding hard materials defines the space. Stone or paver flooring upon which rests a fireplace, kitchen, lighting, and seating turns a ho-hum patio into a rockin' outdoor room.
When family or friends visit for vacation or a holiday, they'll spill out of the house and into the outdoor living space. Covered areas, like pergolas, can be a napping spot in the breezes of summer, a place to work on your laptop, or a cool reading spot.
Building your outdoor living space with seat walls not only increases the capacity of your outdoor room but adds a measure of privacy from nosy neighbors. Seat walls enhance any outdoor room.
Hardscaping materials separate aspects of your outdoor living space. For example, building separate areas off the outdoor room for guests to gather would prevent crowding or your guests stepping all over your flowers. This area could hold the fire pit, for example. Another area would surround your swimming pool, to use another example.
Hardscaping Features Are Low-Maintenance
What would highlight your outdoor living space better than a low- to no-maintenance area? Hardscapes might chip a little, and they might get cracks in the paving stones or bricks. This is easily remedied or replaced without digging up the whole yard to fix a tiny problem.
Hardscaping materials have a lifespan of almost forever. They need no fertilizing, seeding, trimming, cutting, mulching, or watering. They don't have to be prepped every spring and fall.
That being said, hardscaping materials should be cleaned at least once per year. Then they should be sealed against staining, cracking, and other wear and tear. This extends the life of the material. Your hardscaping will last long after you've moved to another house.
The winter months are hardest on materials of all types. Unfortunately, many homeowners just ignore their hardscaping through these months. Of the homeowners that don't, many use salt to de-ice their hardscapes. Many also allow the snow and ice to run off, which could damage the house.
Chemical De-icers
The chemicals used in commercially prepared de-icers eat into most hardscapes, weakening the material. Instead of these chemicals, most big box stores sell wood shavings, sawdust, and sand. Kitty litter works, too.
Shovel Snow
Keep an eye on the snow. When it lets up, even for a minute or two, sweep with a broom or shovel the snow off your hardscape. The snow won't freeze, thereby damaging your hardscape. Use a plastic or rubber-edged shovel to avoid damaging the hardscape materials.
Runoff Maintenance
Rain and melting snow from the roof run into the gutters. It then drains away from the house. However, sometimes the runoff is heavy, and the gutters are overwhelmed. It's up to the homeowner to re-route the runoff, so it doesn't damage the foundation, basement, and walls of the house. Call drainage experts for help.
Hardscapes Add To The Curb Appeal Of Outdoor Living Spaces
Those who sell houses preach that curb appeal sells a house. Improving dozens of aspects of a house and its grounds constitutes curb appeal. One of these aspects is outdoor rooms. How can hardscaping enhance the curb appeal of an already appealing outdoor living space?
Begin At The Beginning
You'll want to lead your guests to the outdoor living space along paths paved with natural stone, brick, or other paving material. The path should lead from the driveway, just like the sidewalk leading to your front porch.
Hardscape the driveway with paving stones of a color complementing the house such as tan, gray, or red brick-colored paving stones or bricks. This is beautiful, low maintenance, and adds value to the house.
Give The Front Curb Appeal Too
Enhancing outdoor living spaces doesn't necessarily limit such things to the back yard. Why shouldn't the front be just as inviting as the back? Be sure to stick to the style of your home, though, or your hardscape will look out of place.
For example, if you live in the rural section of your county, then ponds and fountains would fit right in. Borders, fences, and retaining walls made of barn wood or railroad ties would fit.
For more modern, suburban homes, we suggest paving stones to extend the driveway up to the front porch. Use stones to build walls around a charming garden. Use concrete squares as the drive and place them leading up to the porch. Build a courtyard.
Even if you only build a set of steps from the road up to the house, using tiles, paving stones, or bricks make the front of the house look just as special as the back. This is especially so if homeowners add flowers or other plants beside the steps.
Hardscaping Makes Unusable Ground Into Something Usable
Homeowners know the soil types in their communities. What they don't know is if the owner of a house they want to buy has made the property drain well. If the homeowner is moving across the country or just into the next state over, then he not only needs to know what type soil he's getting into but if the soil drains well.
The answer to the problem is grading the property. Generally, sodding or a layer of topsoil is added to help facilitate drainage. This can get expensive, though.
What does this have to do with enhancing an outdoor living area? Instead of being unable to use your outdoor living space due to the property being wet to the point of flooding, imagine hardscaping innovations that help direct the water away from your outdoor room:
Dry Creek Beds
Dry creek beds direct water away from the outdoor room and house. They also keep mosquitoes from becoming a problem.
Retaining Walls
When they're placed in the logical places on the property, retaining walls lead the water in the way that it should go. Retaining walls look good, too, and add value to a home.
Using hardscaping materials to build retaining walls at specific spots on the property prevents erosion. The object is to build a wall (some use railroad ties while others use stone) to keep the soil from washing into the road. Retaining walls mean your property will remain where it is for a long time.
Paths, Walks, And Patios
These provide a path for the water to get away from the outdoor room and the house. They also give family and guests a dry spot to stand on when visiting.
Hardscaping Adds Value To A House
The first consideration of home resale value is where you live. For instance, if you live in the South or the Southwest, then it's relatively warm year-round. You'll use your outdoor space more, so enhancing it with hardscaping features makes sense. If you live where there is a definite change of seasons, you might want to rethink it.
The second consideration is where you live. If the homes around you have outdoor living spaces, then you're good to go. If they don't, then your house might be perceived as too expensive, and it might or might not sell. Research before you build.
A house's value is defined by its square footage. A deck or patio extends the square footage of the house, thus increasing its value. When hardscaping innovations are added to an existing patio or deck, then they not only enhance the outdoor room, they, too, increase the home's value.
By far the most popular outdoor living space is a patio. When hardscaping features such as wall seating, planters, fire pits, outdoor kitchens, and water features are added, buyers snap up the house.
Hardscaping Provides Privacy For Outdoor Living Spaces
Since hardscaping includes fences, then homeowners' choices to maintain privacy are many. Wood fences include lattice panels and solid wood fencing. Stone and rock fences are built in dozens of heights and thicknesses. For example, a seat wall's top could be built higher than the seat to provide privacy for family and guests.
Building rock formations among your tall privacy plants like pampas grass is a good way to have privacy. This idea is used by many homeowners around their pool area, giving swimmers and sunbathers the privacy they would wish.
Hardscaping Provides More Than Just A View From Your Outdoor Living Space
Your outdoor room has a wonderful view of your property. Hardscaping paths around your property and through your gardens give friends, family, and guests the chance to see your outdoor room from a different perspective. The beauty surrounding them on the paths just adds to the experience.
Additionally, accessibility to the gardens or just to the property itself will give all who walk the paths a chance to enjoy the simple beauty and serenity of said gardens and property. This is especially true when homeowners place seating and tables along the paths or in a small courtyard constructed around the gardens or property.
Hardscapes Give Homeowners More Chances To Get Fresh Air And Sun
Outdoor living spaces caught on so quickly due to being outside. Family gatherings are good, but they're better outdoors. Meals are great, but grilling them outside is better. You get the idea.
With that said, outdoor spaces with hardscape seating give homeowners a chance to enjoy the fresh air and get plenty of Vitamin D from the sun. Many hardscaping designs containing seating are possible – the only limit is your imagination!
Are you picturing in your mind enjoying a cup of coffee seated outdoors in the calm of a quiet morning? Conversation is especially nice seated on a hardscape seat in a beautiful sunset with a bottle of wine. Quality time with family makes more memories when the family is having fun in their hardscaped back yard.
Hardscaping is anything that isn't a plant, grass, or soil. Everything from gravel to decorative stones to pavers to brick and concrete squares constitutes hardscape materials. They are used as a border in gardens, to dress up the sidewalk to a house, to redefine the driveway, and to pave the way around the outdoor living area.
Hardscaping materials are available in various colors, so homeowners can color coordinate with their house. They come in different textures, so rural or farm properties may stay compatible with their style. Hardscape materials even come in sizes commensurate with the homeowner's design ideas. Want to pave the whole yard? Not a problem. Toss out your lawnmower!
Hardscaping enhances any outdoor living space in a myriad of ways. From preventing the ground from staying wet after a storm to preventing erosion in some situations, hardscape materials keep outdoor rooms stable and able to function. They add to curb appeal and give your family privacy from neighbors.