Benefits of Installing a Sod Irrigation System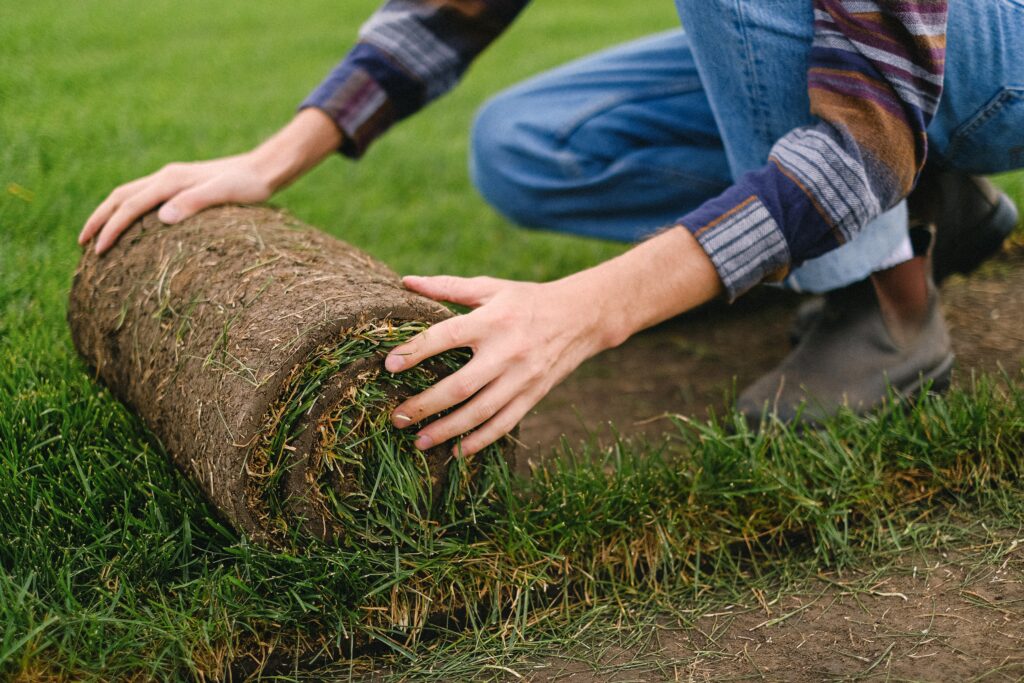 Watering your lawn is the key to keeping it green and lush. Ineffective irrigation techniques lead to poorly unkempt and unhealthy lawns. If you don't use a sod irrigation system, your yard will get dry spots that, if you leave them too long, the lawn will eventually turn brown and die. The opposite is true—too much water can be unhealthy for your lawn.
Understanding the telltale signs of a thirsty lawn is essential for adequate irrigation and sod. Wilting turf grass exhibits dryness by losing some of its characteristic green colors and taking on a faint blue-gray tint. A closer examination reveals that the turf is limp and will not rebound when stepped on.
To check for the presence of water on the lawn, use a knife or a sharp object. Prick the dry and green areas to check for the lawn's excess and lack of water. If the penetration is difficult, it indicates that the area is deficient in water and is drying up.
This article explains each step of watering your sod and the best sod irrigation system to guarantee your sod is healthy and lush.
When should new sod be watered?
Immediately after installation, start watering your newly laid grass with a sod irrigation system. Apply sufficient water to ensure the soil beneath the water is wet. For turf to survive, there must be ground contact and moisture. You might need irrigation and sod before laying the entire site if the day is hot.
According to experts, a new lawn should be watered twice daily for about 20 minutes for at least two months. The ideal time for irrigation and sod of your lawn is in the early morning and late afternoon, but be sure to modify your schedule if it rains. Avoid irrigating your yard in the afternoon or evening hours because doing so invites diseases, insects, or fungi.
You won't need a sod irrigation system as frequently after a few weeks once the grass has begun to root in the ground. When irrigation and sod is applied sparingly and deeply after the sod has had time to establish itself (a few weeks after installation), the turf becomes more drought resistant.
How to Tell If You've Not Watered your sod enough
If you notice that significant spaces are starting to form between rows of sod or if the corners are pulling up, you probably aren't applying sod irrigation system frequently enough. It indicates that your new lawn is drying out. If you're only getting bad results in one area, it's a good sign that your sprinklers aren't covering the whole area and that the sprinkler positions should be changed. Look out for any areas of the lawn that are gray or not healing after being trodden. These are early warning signs that your lawn needs more water.
How to Tell if Your Lawn Is Overwatered
Although your sod needs a lot of water, you shouldn't go overboard. Excessive moisture can stop root growth and cause rot. You should stop watering your lawn with sod irrigation system and allow it to dry out if it seems to be holding water or if there are signs of puddles.
You need to adjust your irrigation and sod schedule to allow your lawn some time to drain out if the ground feels soft to the touch or if water comes up when walking on the lawn. To spot overwatering early on, look for any yellow discoloration or indications of decaying grass. Thankfully, turf grass is bred to be resilient. Your sod will recover quickly if you change your watering schedule as soon as you notice signs of over/under irrigation.
Top irrigation and sod watering tips
Pull back a small section of the turf and stick a screwdriver into the ground to test the soil's moisture level. It should easily penetrate the ground and reveal moisture up to 3–4 inches. If there isn't any moisture, use a sod irrigation system to add water.

Inspect your new lawn to make sure that water is reaching every area. Many sprinklers are prone to missing corners and edges, which can cause them to dry out more quickly. Furthermore, because of the reflected heat, areas close to buildings tend to dry out more rapidly and may need more water.

Late afternoon is the best time to check your lawn to see if it is becoming dry. If the grass is slightly blue or the blades appear thinner, it needs more water. It's a sign that the grass isn't getting enough water when your footprints seem to linger for a while after you walk on it.

Deep watering is preferable to shallow watering when done sparingly. Roots can only grow to the depth of the available source of water.
Making Plans for the sod Irrigation System
A sod irrigation system can be as straightforward as a sprinkler attached to a water hose or as complex as an underground network of pipes with numerous interconnections and fully automated controls.
Creating a step-by-step design process is not always easy. There are several factors at play. The rates at which sprinklers and 0ther emitters apply water should be low enough to prevent soil erosion while still being adequate to supply the sods' needs for water. Finding the best irrigation and sod sprinklers, drippers, and spacing for a specific system may take some trial and error.
Before designing a sod irrigation system, several factors must be put into consideration:
Irrigation requirements for the lawn

The shape of the lawn

Soil type

Source of water

Operational necessities (automatic or manual irrigation)
Here are things to consider when designing your system:
On your map, mark the locations of the sprinkler heads and the spraying circles to ensure that the entire lawn is watered: To guarantee adequate coverage, don't forget to overlap the spray pattern diameters by 50%.

To operate all of the irrigation and sod sprinklers simultaneously, divide your sprinklers into groups of various circuits, each controlled by a control valve. You can get assistance selecting different sprinkler types and designs from the manufacturer's workbook, which is in all sprinklers. It's not a good idea to connect irrigation and sod sprinklers from various manufacturers to the same circuit because the variation could disrupt the steady flow of water.

Organize your control valves into a pipe branching into several openings if your sod irrigation system is extensive, and then connect the pipings to the controller.

When sketching the piping, ensure precise measurements for the intervals between the control valve, pipes, controllers, joints, and other components.

Create a list of every piece of piping and tools you'll need to put your sod irrigation system together: You risk forgetting something if you don't. Check your list with the equipment retailer to ensure you have everything you need.
Irrigation methods for Your Sod Lawn
There is numerous sod irrigation system available that can be installed to give a lawn the precise amount of water it requires. Some of the techniques are listed below.
Drip sprinklers
Drip irrigation is the slow and frequent application of water to the soil via mechanical emitters. These irrigation and sod emitters are linked to water distribution systems that irrigate each plant. This application technique eliminates water losses while also ensuring a reasonably even distribution.
Watering is required daily or every other day while the sod is planted and growing. Plants with a small amount of wet root volume use water more quickly. Additionally, drip irrigation aims to avoid plant stress by preserving the ideal moisture concentration in the soil. It necessitates frequent water applications to keep the soil wet.
The time required for application should equal the amount of water used since the last irrigation. It shouldn't be continuous and can last anywhere from one to sixteen hours. Increase the number of emitters if the system regularly needs to run longer than 16 hours daily. Duration must not exceed the point at which ponding or runoff begins; avoid this by shutting off the water and resuming it later.
To ensure that your irrigation and sod drip system works appropriately, wash filters and screens regularly by hand or use the built-in backflushing. Depending on the filter's size and the water's quality, flushing may be necessary weekly, twice a week, or twice a month.
New irrigation and sod drip system are tested by turning them on for a brief period each day, checking the soil's moisture level, and then turning it off again. Using a drill or soil coring tool to sample the earth or a soil moisture measurement device, one can assess the moisture content of the ground.
The Advantages of Drip Irrigation
1. Saves water
Even though gardens require water, water conservation is a significant concern for many. There is very little water waste because the soil absorbs almost everything. Additionally, using soluble fertilizer in the sod irrigation system water will also save money on fertilizer!
Experts frequently advise gardeners and grass enthusiasts to water their lawns in the morning before the sunlight rises. It is because there is little sun, a lot of humidity, cold air, and little wind.
2. Easy to install
Excavation is unnecessary because the irrigation and sod system is installed on top of the soil. Sometimes or below it. Therefore, installation is quick, easy, and doesn't interfere with your garden. You can probably install the irrigation and sod system yourself if it's a simple one. It also implies that you can remove your system very quickly if you're not entirely satisfied with its setup.
3. Keep erosion and runoff at bay
Large flow rates erode the soil because a high water flow will often wash the soil away. Drip systems are much less disruptive and will keep your fertile soil intact.
4. Cuts back on weed growth
Drip irrigation systems can limit the water accessible to weeds that might grow within and near your garden because water is only delivered to specific plants. Additionally, the delivery process will ensure that your grass grows as much as possible.
Sprinkler Irrigation
You could also install a sprinkler sod irrigation system on your lawn to compensate for the insufficient rainfall. Sprinkler irrigation can be thought of as the flip side of drip irrigation. The two most popular sprinklers used in gardens and lawns are rotary sprinklers and spray heads. Each type is designed for a particular application and has a unique set of operating characteristics.
For expansive lawns and gardens, rotary sprinklers are the most cost-effective option. Rotary sprinklers are used with coupling valves to enable mobility or mounted on permanent risers for installation.
Spray heads, unlike rotary sprinklers, are designed to function at lower pressures. Compared to rotary sprinklers, they have a lesser coverage. This quality may restrict their use and duration of application in areas with heavy soils or steep terrain. The areas with irregular shapes and smaller or narrow lawns are where spray heads are frequently used.
These are factors to consider when selecting a sprinkler:
Area of Coverage

Conservation of Water

Timers and auto-shutdown options
Advantages of sprinkler irrigation
There is no need to level the land, which lowers the cost of leveling.

Practiced in terrain with uneven slopes.

Used in areas where water is scarce.

Water is applied regularly, along with the application of chemicals and pesticides.

In highly porous soils, water is applied uniformly.
Here are some of the top lawn sprinklers.
1. Rectangular Spot Sprinkler
This metal Gilmour Sprinkler is ideal for a modest lawn or gardens and is less likely to topple over while watering grass.
2. Brass Impact Sprinkler
Its orbit is adjusted to spray at 360 degrees up to 50 feet. It also has a substantial step spike to keep the sprinkler firmly grounded.
3. Oscillating Sprinkler
The device is turbo gear-driven and can cover up to 3,600 sq ft. A solid metal base adds stability. It is possible to remove and clean the water inlet filter, which collects dirt and debris, and, if necessary, use the provided cleaning tool to remove stray dirt from the plastic nozzles.
Conclusion
If you need a new lawn quickly, irrigation and sod is unquestionably the best option. Luckily, landscapers like us here at Hyrdo Dynamics are able to guarantee a lush, green lawn. With that in mind, take care of your lawn and provide it with everything it requires to thrive. One technique to do this is to provide it with water. Follow this article's sod irrigation system procedures and practices to achieve your ideal lawn.