Can You Aerate in the Winter? And Other Common Questions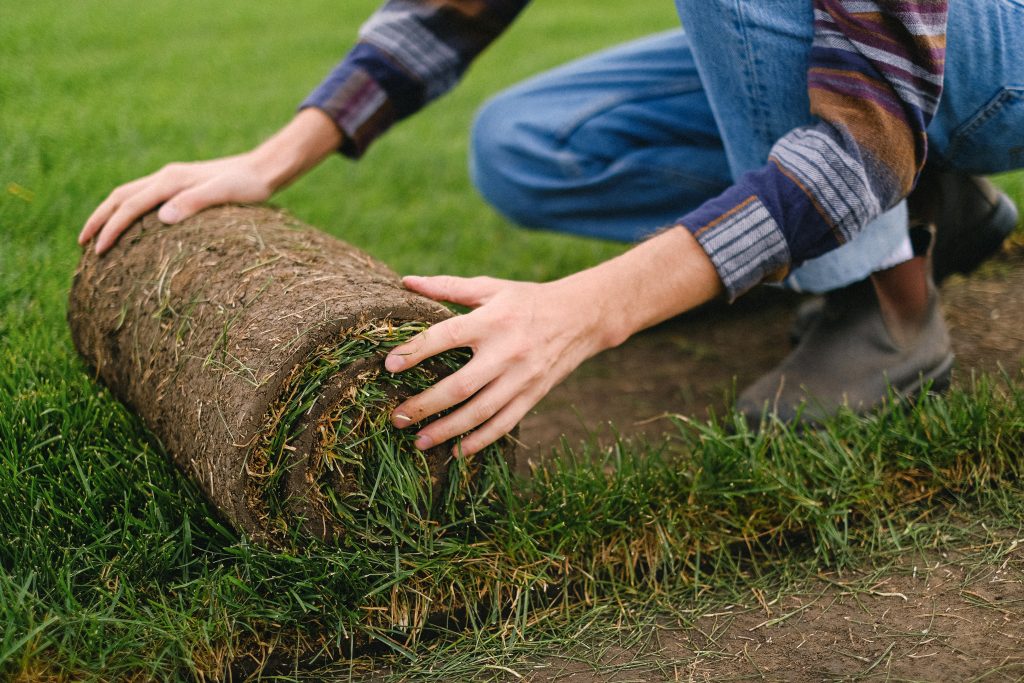 We'll start off by answering that first question right up front: Yes and no. Aerating in winter is only recommended before planting new grass or while the turf is still young and growing. The idea behind turf aeration is to uncover the topsoil and allow extra airflow in. The goal is to intensify grass roots' breathability and enable the roots to pierce further into the soil to access richer nutrients. In other words, if you must turf aerate in winter, it should only be before overseeding. It's generally not recommended in cold environments. Typically, you should aerate when your grass is growing, not when it's dormant — you risk stressing it too much.
That said, can you aerate in the winter? Is it a worthwhile endeavor? In winter, soil's water retention ability is pretty low. Furthermore, the soil is more vulnerable during winter. Prairie aeration enables the roots to effortlessly transmit water and nutritive resources from and to other parts of the yard. That upsurges healthier growth and preps the lawn to handle growth challenges.
Can You Aerate in the Winter? How Often Should Turfs be Aerated Each Year?
Lawn aerating is the preparation phase required to make grass roots stout and long enough to draw sufficient nutritious provisions from the soil. Yard aeration is doable any month throughout the year. When you plug prairie into the bare spots, you'll get to make the grass capable of resisting pests while giving it a more eye-catching look. That would make your grass thick and uniform, hindering weeds from finding a home within or around the lawns. What you get at the end is a beautiful turf that is easy to maintain.
Thus can you aerate in winter, and what benefit does it come with? Aerating in winter splits up trampled soil, enabling water and growth-boosting nutritious resources be seamlessly transported to your turf roots. Aerating a lawn makes it grow stouter and well, exhibiting that beautiful green shade of your turf.
Approximately how many times do I have to aerate within 12 months? You're allowed to aerate home turf as many times as you can within a year. You can do it twice or even thrice if you have the capacity to do so. There's no limit on how regularly you can aerate your grass. 
However, technicians in this area say once a per year is usually enough for high-traffic, high-compaction areas, and you can aerate even less often if you have sandy soil. That's because aeration takes time and effort, and doing it multiple times a year means investing in something that won't produce the best returns at the end of the day. There are other necessary lawn maintenance tasks, after all. If you can correctly and adequately aerate your home grass once a year, it'll be enough to hold the turf strong until the next aeration session.
Can You Aerate in the Winter? How Do I Aerate to Perfection?
Before getting down to aerating your turf, research the steps on how to prepare lawn for aeration. As you solve the puzzle of when to do it, it's fundamental to know how to prepare lawn for aeration. The first step on how to prepare lawn for aeration is to confirm the soil is soaking. Watering the turf is necessary when aerating in the dry season. If it just rained, you won't need to do the watering.
Most aeration tools can penetrate the top-medium ground layer with a single pass. Consequently, performing several passes above the already trodden soil surfaces is ultimately recommended to achieve superior aeration results. If there are areas where the turf isn't all that condensed, you can skip over them. 
A muffled aerator is probably the most used aeration machine by most homeowners. As you aerate with top-quality hollow aerating machine, don't just fill the holes left immediately. Allow the exhumed clumps of soil to break down on top of the soil. Once the lumps have broken up and decayed, you can fill the holes. You might want to mow your turf to let the soil plugs break up.
An important thing to know on how to prepare lawn for aeration is the application of fertilizer and top dressing on your grass. These two nutrient-adding solutions will supplement the soil and feed the lawn more nutrients to grow and thrive well. The bigger the volume of nutrients contained in the soil, the greener and healthier the grass. Therefore, don't forego this step if your reason for doing the turf aeration is to make it more lively and attractive.
Can You Aerate in the Winter? How to Know It's Time to Aerate?
Some homeowners follow a uniform lawn aerating pattern. This category of homeowners has their aeration due dates recorded mentally. They already know when the grass is due for aeration and rarely make mistakes. Another type of homeowner only aerates when they get vivid signs. These are often the people looking for answers to the question "can you aerate in the winter?" and "how to prepare lawn for aeration?"
If you fall in the latter category, you might be curious to know telltale signs to hunt for to tell when your turf is due for aeration. Check out these signs to tell when your grassland is due for the annual aeration session.
Your turf has been used heavily by pets and kids, compacting its soil.

Soil has dried up and feels springy. That specifies a thatch issue, which demands aerating.

The meadow hasn't been aerated for a long period, and its topsoil has been stripped.

Your yard looks malnourished, and the green coloring matter is already fading away.

You feel the urge to do so since months have passed since you last aerated it.
How to Prepare Lawn for Aeration? What You Need
Understanding the proper approach on how to prepare lawn for aeration calls for knowledge of what's needed in order to get work done fast. Meadow aeration takes certain tools and skills. It requires setting certain things right for the job to be done with ease. Therefore, can you aerate in the winter, and how do you prepare for it? Let's find out.
Renting or buying the ideal aeration tools:

You need plug or spike aerators when aerating turfs. These can be bought online or rented from your local gardening store. The application and usability of each differ. Researching the work and application of each is an indispensable step not to neglect when learning how to prepare lawn for aeration.

Collecting debris and branches on top of the grassland soil:

Aerating is better when soil has no obstacles such as leaves and stems. Clean off the debris on top of your turf before starting the aeration procedure.

Clean the yard:

Grassland clogging can inhibit growth and even kill some grasses. Prior to aerating the grass, clean up any mess on the turf. Relocate any existing furniture and kids' toys.
Can You Aerate in the Winter? Is DIY Aeration Recommended?
It takes a veteran technician to set things right when aeration is involved. Renting or buying pro-grade aeration tools can make the work much easier and more achievable. Likewise, knowing how to prepare lawn for aeration and the exactly appropriate time to aerate saves the day. However, even when you utilize advanced and efficient aeration tools, you'll still mess up if you don't have DIY-level lawn maintenance skills.
DIY aeration is not advised unless you have enough experience as a DIY turf maintainer or a pro recently visited and aerated the meadow, and you're doing it for the second time within a year. Working with pro turf maintenance technicians is mostly recommended because they have high-end skills and have familiarized themselves with the best airing tools.
Can You Aerate in the Winter? Why is Winter an Ideal Season?
Understanding how to prepare lawn for aeration and the exact best aerating time is key. However, if you would rather let a professional do the aeration, you need not keep records of how often to get turfs aerated. Can you aerate in the winter? Which benefits come with aerating, and what are the reasons to do it? The professionals will have all the answers. Below are solid reasons to have turfs aerated for those who are still a little skeptical.
Promotes deeper root growth:

Aeration is constantly chosen over other lawn maintenance methods because of its ability to support the efficiency of turf roots. Aerated meadows have roots penetrating deep soil layers to tap from the nutrients. Grassroots can infiltrate deeper soil layers to support healthier lawn growth.

Reduces the frequency at which you'll water your turf:

Watering sward is undeniably muscle-tasking and time-demanding. If asked, many homeowners would request easier ways to keep their yards watered without going through the complex work of manually watering the turf. When aerated, grass roots gain the strength and potency they need to penetrate different soil layers to search for water and nutrients. That ensures a sufficient supply of essential nutritive contents, reducing the frequency at which the lawns will need to be watered.

Building of organic soil material:

Common aeration tools such as an aerator do a great job supporting the buildup of organic material. As you know, the higher the organic content, the healthier and longer grasses grow.
How to Prepare Lawn for Aeration? Why Should I Test Lawn Soil for Compactedness?
Want to know how to prepare a lawn for aeration? Understanding the purpose of testing soil for compactedness is fundamental. All you'll need is a screwdriver to conduct this test. Drive your screwdriver deep into the ground and monitor what happens. If it penetrates the earth with minimal effort, the soil has not compacted and aerating won't be mandatory. If the screwdriver doesn't go into the soil or does so after applying more energy, it's time you got your tools ready for the soil aeration exercise. Don't forget to learn a few things on how to prepare lawn for aeration.
Can You Aerate in the Winter? What Should You Know?
So, can you aerate in the winter? What things must you understand? Regular and scheduled yard maintenance goes a long way to support healthier growth. However, the winter season is often accompanied by dryness and lack of water. Therefore, your yard won't be getting enough water in winter, and if you try to aerate it, you might affect its growth. If you must, by all means, aerate in the winter, especially if you live in a warmer climate. It would be vital to get a clear idea of how to prepare lawn for aeration during dry season.
Can You Aerate in the Winter? In Which Season Does Aeration Suit Best?
Turf care technicians have suggested that the best seasons to get your prairie aerated are early summer or during spring. Any other time of the year might work best, but this time presents greater opportunities for grass to be aerated easily and grow fast and healthily.
How to Prepare Lawn for Aeration? Is Mowing in Winter Recommended?
Several preparation steps should be observed in aerating a turf, one of which is mowing. As we have already mentioned, winter isn't the best time to get turfs professionally aerated. If you're confused and not sure the winter month to perform aeration tasks, we recommend doing it any time from March to October.
Can You Aerate in the Winter? What makes Winter Different?
Can you aerate in the winter, and is it actually achievable? There are many good reasons some people in warmer climates decide to aerate their yards in winter. Only a few people are giving their best to maintain their yards during winter. Therefore, there are actually fewer tasks needed to keep the grass growing better and healthier. If you call your turf maintenance technician during this time of the year, they won't be in a hurry, since they often have fewer turf maintenance tasks on their lists.Here at Hydro Dynamics, we've got you covered if you're looking for a professional to ask all your lawncare questions, from "Can you aerate in the winter?" to "How to prepare lawn for aeration?" Check out our comprehensive services, and don't be afraid to reach out with any further questions. We look forward to hearing from you!