Hardscape Design Definitions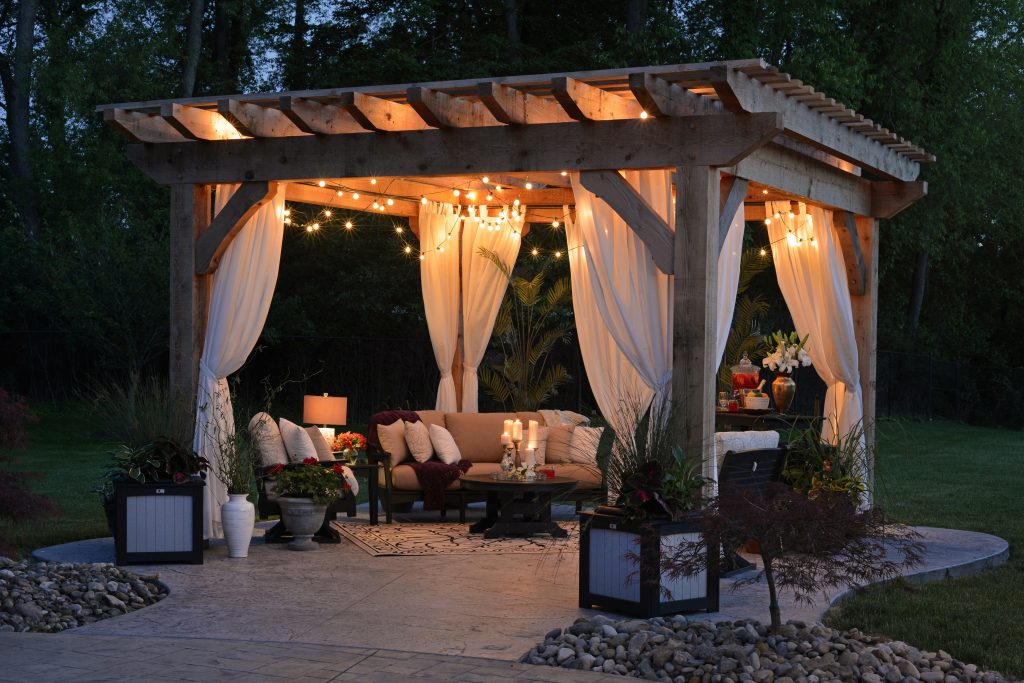 When you're looking into hardscaping companies to create a custom hardscape design for your yard, there can be a lot of intimidating jargon passed around. Here, we'll break down all the terms, equipment, styles, and elements you should be aware of going into your next hardscape design project.
Hardscaping
A natural first term to unpack would be "hardscaping" itself. If you don't know that one, it'll be hard to make it through the rest of the piece. Hardscaping is basically any landscaping element that is man-made — pathways, fences, patios, walls, even fountains. It's the direct opposite of softscaping, which is, as you might guess, all the living elements to a landscape design. A good hardscape design will take all the softscaping into account and try to weave the two together seamlessly. Hardscaping companies are very good at this process if you're struggling to do it yourself.
Pavers
This is a term you'll hear thrown around a lot as you're embarking on a hardscape design project. As the name suggests, pavers are paving stones primarily used in walkways and as stepping stones. They're also found in driveways and patios. Hardscaping companies make good use of pavers in many of their designs because they're so functional, and they can be made out of clay, brick, stone, or concrete. This versatility extends to their shape, size, color, and texture as well. With that many variations, they can make your next hardscape design project highly customized to your specific taste.
Pavers can be laid in a variety of patterns, too, which should be taken into consideration for any hardscape design. The possible patterns range from standard to fancy, so check with hardscaping companies to see what kinds of designs they offer and how much each will run you. The fancier the pattern, the more expensive the installation. Let's break down a few of the more common patterns.
Stretcher Bond
This style is probably the first that comes to mind. Rectangular pavers are placed horizontally, and they're staggered. 
Herringbone
This is another popular paver pattern, but it differs from the stretcher bond in that the pavers are put at 90-degree angles from each other — half are horizontal, half are vertical. There's also a variant of the herringbone pattern where the whole design is tilted on its side, making a sort of sideways W pattern.
Stack Bond
The stack bond pattern is the most straightforward one of the bunch. It involves square pavers lined up exactly, making a grid. It can also be rotated 90 degrees, making the diamond pattern.
Basket Weave
Pavers placed in this pattern are rectangular, like stretcher bond or herringbone, but they are grouped to form sort of a stack bond. Two rectangular pavers are placed horizontally, then two vertically, and so on, evoking the image of a basket.
Retaining Walls  
Retaining walls are another key element in many hardscape designs. Simply put, they're walls that hold soil in place. They can be made out of a variety of different materials and come in several different varieties depending on your specific needs. Some common uses for retaining walls include leveling off sloped areas or preventing erosion on steep hills. They can be made of stone, concrete, or even pressure-treated wood.
Given that retaining walls are under a lot of pressure from the soil they hold back, they're an important feature to have done right. Some products, like ready-made interlocking concrete bricks, make these projects possible to do on your own, but there's definitely no shame in looking for hardscaping companies to figure out retaining walls for you.
Pergolas
One of the more fun terms on this list, pergolas can be a great, somewhat more unique addition to your hardscape design. Pergolas can be a little tricky to differentiate from some other types of structures you might find in a garden, so we'll unpack the differences.
A pergola consists of columns (no solid walls) supporting some kind of roofing structure, usually open beams. When the roof is open like that, there are a few different options for coverings if you'd like to have a little shade. Retractable canopies, fiberglass, or even vines grown over the top of your pergola can block out the sun or provide a little protection from the elements. Pergolas can be connected to the house, or they can be freestanding. 
Average backyards don't have big, sweeping walkways, but large gardens and vineyards sometimes cover their long paths with pergolas, as well. 
Gazebos
Our definition of a pergola probably sounds a lot like a gazebo, but they're distinct types of structures. Although they can both be used as outdoor living spaces, gazebos are always freestanding and always have a closed roof, unlike pergolas. Additionally, gazebos often have a round shape, whereas pergolas are typically rectangular. A final subtle difference is that gazebos often have a raised floor, and pergolas typically sit flush with the ground. 
Arbors
This is a more obscure hardscape design feature, but it can add a nice dimension to your outdoor space. Arbors are freestanding archways that support vines. They're smaller than gazebos and pergolas — they don't contain any kind of outdoor living space. Although they are never connected to a building, they sometimes serve as a gate for a fence. Hardscaping companies most commonly use them to signal entry to a garden or other outdoor space.
Patios
Unlike the pergola and its cousins, you're probably at least passingly familiar with patios, making them popular hardscape design features. Patios are flat, open, paved spaces. They can adjoin a house, or they can stand apart. Materials hardscaping companies use for patios include pavers (remember those?), concrete, brick, or even gravel. Patios are quite versatile and come in a lot of different shapes, but the key thing about a patio is that they sit at ground level.
Decks
As opposed to patios, decks do not sit at ground level — they're elevated, meaning they require safety railings you don't find with patios. Decks are usually made out of wood or a synthetic material with a wood-like look, such as vinyl or composite. Hardscaping companies can determine if your space, needs, and aesthetic sensibilities are more suited to a deck or a patio, and they can offer guidance on what types of materials would work best for either type of project.
To really complicate things, you can even build a pergola over a patio or a deck. The possibilities are truly endless.
Seat Walls
Built-in seating for outdoor spaces is becoming increasingly popular, which makes seat walls a great option to bring up with hardscaping companies. They're walls built to add places to sit in an outdoor space like a patio. Sometimes, an extra ledge can be added to a retaining wall so it can pull double duty as a seat wall. They also pair nicely with pergolas, and, as we'll discuss further later, fire pits. Seat walls are often made of stone, but they can also be made out of concrete or have wood accents. With seat walls, you can quit buying all-new patio furniture every year. Just plop a few pillows on there, and you've got a great place to sit and enjoy your backyard.
Driveways
Another pretty obvious one, driveways are absolutely essential to most people's outdoor spaces. Driveways are private roads of sorts that provide access to your house from public roads. Since driveways are so common, they might not come to mind as a hardscape design element, but hardscaping companies can actually get pretty creative with them. With different materials and designs, your driveway doesn't have to be an eyesore.
Walkways
A way you walk on. Simple. But, like driveways, hardscaping companies can spice them up to make them an exciting feature of your outdoor space. Use interesting pavers laid out in a fancy pattern, cover it with a pergola, and boom, you've got a feature walkway. You're welcome for the idea.
Fire Pits
As the name suggests, these would be areas where it's safe to enjoy the warmth of a fire when the nights start to get cold. Sometimes sunken, sometimes above ground, usually round, fire pits are great fire features for smaller spaces. There are a lot of portable fire pits on the market, but hardscaping companies can build them right into your patio. They can be traditional wood-burning structures, or they can run on natural gas or propane.
And pits aren't the only kinds of fire containers you can incorporate into a hardscape design. An outdoor fireplace differs from a fire pit in that it's usually rectangular and above-ground rather than, you know, a pit, and it usually has a chimney. These are rather difficult to install yourself, so hardscaping companies are a great option if fire features are a must-have in your dream hardscape design.
Water Features
Fire isn't the only element you can bring to your outdoor space. There's a wide variety of water features hardscaping companies are well-equipped to add to your yard: Pools, fountains, waterfalls — if it's got water, it can have a spot in your hardscape design.
Not all hardscaping companies specialize in pools, so if that's one of the main things you want in your yard, you should definitely seek out a company that is known for their pools. And when you're designing your ideal water feature, don't forget about lighting elements — they can really enhance the style of your yard after dark and take your hardscape design to the next level.
From big and flashy to small and thoughtful, water features can be a great addition to any landscape, and hardscaping companies are well-equipped to help add one to yours.
Outdoor Kitchen
This feature encapsulates a lot of other ones. Having a fully-functional cooking space outdoors can make for some really fun and delicious summer dinners, but that means quite a few elements of hardscape design need to be taken into account. 
A full outdoor kitchen means hot areas (like a grill, a pizza oven, a cooktop, or whatever you'll use to actually cook the food), a sink, a refrigerator, counter space, and plenty of cabinet storage space — just like your indoor kitchen. 
Choosing to add an outdoor kitchen to your backyard is no small decision. You should take the selection of equipment for your outdoor kitchen very seriously, and really think about what you will actually gravitate toward using. Also consider what kind of seating you want to complement your outdoor kitchen.
The other important consideration with an outdoor kitchen is the safety factor. You want to be sure there are slip-resistant precautions in place, and make sure there is plenty of space and lighting in and around your outdoor kitchen. Hardscaping companies should be aware of these safety precautions, and they should be able to make a functional and stylish outdoor kitchen tailored to your tastes. 
Bottom Line: Mix and Match
We've put a lot of hardscape design options on the table for you to think about, and the best part is that you don't have to choose any of these features over any of the other ones — you can combine them however you and the professionals you're working with see fit. You can have a pergola-covered walkway leading to a patio with a built-in fire pit, or you can have a simple arbor marking the entry to your lush garden that partially obscures a little gazebo out by the fountain — whatever dreams you have for your outdoor space, hardscaping companies can help you make them come true.
Now that you've got some ideas on where to start, take stock of your outdoor area and compare our list of possible features with how much room you've got. There will come a point where your hardscape design dreams will have to come face to face with realities like space and budget constrictions, but hardscaping companies can help you figure out what you can afford and where your biggest priorities are. 
With such a diverse array of features and endless options for combination, hardscaping can be a great way to take your yard to the next level.