Best Ideas for Modern Backyard Lighting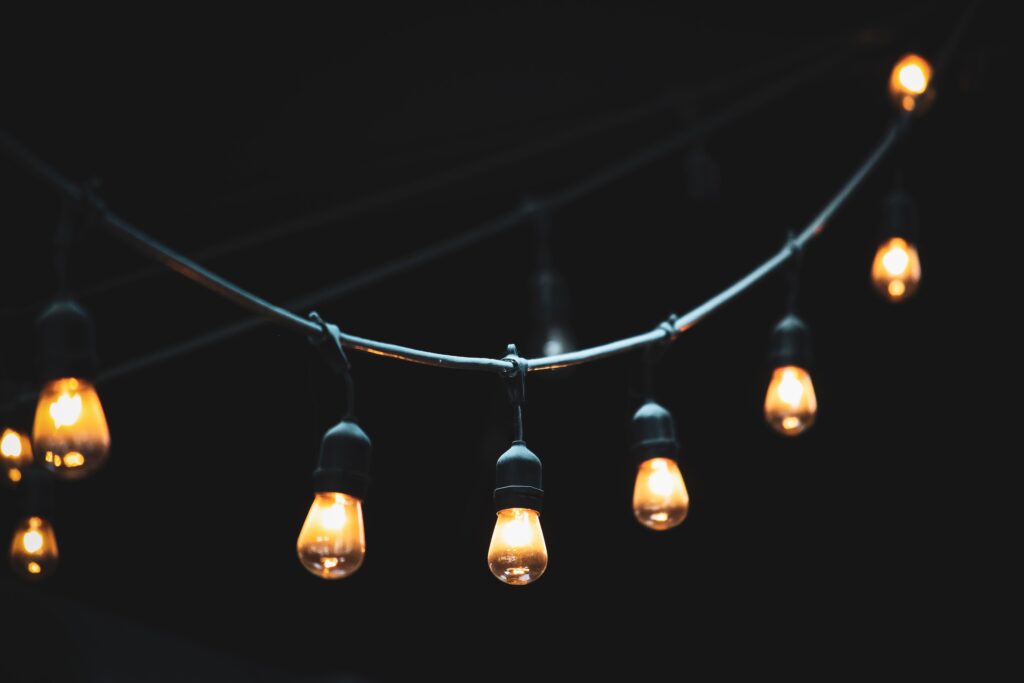 As days get longer and warmer, it's time to consider how best to take advantage of your outdoor space. Modern backyard lighting is one of the best ways to elevate its ambiance. This could be creating an intimate dining environment for an outdoor dinner party or lighting a garden bed. Backyard decoration lights can help achieve any look desired. This ultimate guide will discuss its benefits, types, and installation.
Benefits of Modern Backyard Lighting
Backyard decoration lights offer more than aesthetic value.

It also brings practical advantages like increasing safety in your outdoor space by lighting pathways, stairs, and potential trip hazards. This provides additional peace of mind against intruders who might otherwise try their luck at breaking in.

A well-lit property also acts as an added layer of security against potential intruders who might try to break in.

Modern backyard lighting can maximize the use of your

outdoor living area

by providing illumination for nighttime activities such as barbecues, parties, and stargazing. That means your fun doesn't need to end once the sun goes down.

An illuminated backyard can help increase your property's value.

Furthermore, backyard decoration lights can highlight certain features like gardens or pools on your property.
Types of Modern Backyard Lighting
Backyard decoration light options are abundant and versatile. They offer homeowners options to highlight their outdoor spaces with individual features and personalities. This variety makes the experience truly enjoyable, as you can tailor the look and feel of your backyard to suit your individual needs and preferences.
Let's look into popular modern backyard lighting choices which professionals can use to transform your backyards into more inviting spaces.
1. String Lights: The Starry Night Ambiance
These lights are timeless and versatile fixtures, ideal for creating an inviting ambiance in your backyard. Their warm glow mimics that of star-filled skies to add romanticism and charm. Whether hosting an outdoor soiree or planning an intimate get-together, string lights can set the mood effortlessly.
They are highly versatile, accommodating any backyard size or style. Their diverse designs and lengths are perfect for every outdoor party or celebration. Choose between vintage Edison bulb lights for a classic aesthetic or colorful LED string lights that add fun festivities. Plus, their flexibility allows you to arrange them as desired, whether wrapped around tree trunks, scattered across fences, or suspended canopy style for optimal aesthetic results.
2. Lanterns: The Versatile Luminaries
Lanterns offer a nod to traditional and contemporary design in backyard decoration lights. They offer soft, diffused light from paper or intricate shadow patterns from metal lanterns. Lanterns bring warmth and inviting atmospheres into any outdoor setting.
They make beautiful additions to any outdoor setting, hanging from tree branches like floating orbs of light or strategically placed tables and pathways for practical illumination. From rustic handcrafted designs to sleek contemporary styles, lanterns can add the perfect finishing touches to your backyard decor and become part of its aesthetics.
3. Outdoor Chandeliers: The Epitome of Elegance
Outdoor chandeliers offer an elegant focal point to add sophistication and grandeur to any outdoor area. This turns pergolas, patios, or gazebos into sophisticated dining areas with soft lighting. They also create an inviting and refined environment.
Outdoor chandeliers come in all forms and materials imaginable, from rustic wood designs for vintage charm to sleek metal chandeliers for more modern aesthetics. No matter the aesthetic of your outdoor space, there is sure to be an outdoor chandelier that will enhance its beauty and elegance.
4. Solar-Powered Lights: The Eco-friendly Illuminators
Solar-powered lights offer an eco-friendly solution to lighting up your backyard. Harnessing the power of the sun, these lights charge during the day and then provide illumination into the evening hours without needing cumbersome wiring or electricity supplies. Their installation and maintenance are extremely straightforward, although you might still need professional assistance.
Solar-powered lights come in various forms, from string and lanterns to floodlights. You can select one based on your backyard's layout and lighting needs, providing functional or decorative illumination while reducing carbon emissions.
5. Floodlights: The Practical Illuminators
Floodlights offer homeowners looking to illuminate large areas an efficient solution. Their bright, wide-angle light can efficiently illuminate areas like driveways, sports courts, or large patios while serving as a powerful deterrent against potential intruders. This creates safer outdoor spaces after dark.
They come in various styles and sizes, from traditional halogen lights to modern LED ones, that will fit different lighting requirements. You can mount these floodlights either on walls or standalone posts. Some even come equipped with motion detectors for added peace of mind.
Finding the Perfect Modern Backyard Lighting for Your Space
Selecting modern backyard lighting requires more than choosing an attractive fixture. It requires an in-depth knowledge of your outdoor space, its primary uses, and your personal aesthetic preferences. Here are a few key factors you should keep in mind to ensure your lighting choice effectively fulfills both criteria and enhances the space around you.
A. Purpose of Lighting
Your backyard serves many functions, from being a place for relaxation and stargazing to being used as a playground for your children and a gathering spot for festive gatherings or barbecues. Your primary uses can help guide lighting choices.
For instance, warm lighting would create an intimate ambiance if your backyard often serves as the setting for dinner parties. Floodlights would be better equipped to ensure visibility and safety for night games or sports events.
Consider which areas of your backyard you wish to emphasize. Do you want to draw the eye towards an attractive garden, an inviting pool, or an interesting architectural feature you wish to highlight? Directional lighting can draw attention to these crucial parts, providing extra interest and beauty in outdoor spaces.
B. Style Consistency
Your lighting selection should fit the overall style and design of both your indoor and outdoor spaces. For example, if your home exudes rustic charm, consider lighting fixtures featuring rustic elements, such as mason jar lights or lanterns. Similarly, if your outdoor space features sleek modern aesthetics, look for lighting with sleek lines and minimalist designs. Lighting should complement existing elements rather than clash with them.
C. Energy Efficiency
As energy costs continue to skyrocket and environmental concerns mount, energy efficiency has become integral to homeowner decisions. Opting for energy-efficient modern backyard lighting solutions such as LED lights is good for the environment and your wallet.
LEDs use far less electricity than their incandescent predecessors while boasting longer lifespans and lower operating costs than their incandescent predecessors. Solar-powered lights offer another eco-friendly lighting alternative by harnessing solar power to illuminate spaces rather than needing electricity from utilities. At the same time, solar-powered lights harness solar energy directly rather than via electrical currents to light up your patio space at nighttime.
Installation and Maintenance of Modern Backyard Lighting
Undergoing the journey to transform your backyard with modern lighting requires two essential steps: installation and maintenance. Both steps are critical to maintaining long-term lighting fixtures while creating a welcoming outdoor space that enhances safety and ambiance.
Installation
Once you've chosen the ideal backyard decoration lights fixture, the installation process should occur swiftly and carefully. Pay particular attention if your lighting fixture involves complex wiring systems or intricate designs. Follow all manufacturer's instructions closely to ensure optimal performance from each light.
Some types of lighting, like solar-powered lights, tend to be straightforward and user-friendly installation processes. However, many modern fixtures require more complex setup processes that may include wiring or setting up control systems requiring some degree of electrical expertise and comfort.
Hiring an electrician or lighting installation specialist is recommended if you're unfamiliar with electrical systems or simply prefer professional guidance when installing backyard decoration lights. Professionals have been trained to handle the complexities that might arise during installation to reduce the risk of improper installations and ascertain safe lighting installation processes. Furthermore, they're familiar with local building codes and safety standards to guarantee their lighting fixtures will meet standards safely and effectively.
Maintenance
Once your modern backyard lighting has been successfully installed, the next step should be maintenance. Regular check-ups help extend its lifespan, maintaining its brilliance for years.
One key element of maintenance for outdoor lighting fixtures is cleaning them regularly. Outdoor lights can quickly accumulate dirt, dust, and debris. These dull their brightness or cause lasting damage over time. Therefore, schedule regular cleaning sessions to keep fixtures free from unwanted grime or foreign particles.
Attentiveness should also be paid to any burnt-out bulbs in your backyard. Prompt replacement ensures continuous lighting, eliminating dark spots from appearing, helping maintain aesthetics, and contributing to safety in outdoor spaces.
Regular wiring inspections should also be a top priority, particularly before and after harsh weather conditions that may exacerbate issues.
While basic cleaning tasks, such as dusting, can be performed by homeowners, more complex maintenance duties involving electrical components should be left to professionals to ensure both safety and avoid accidental damage to lighting systems.
The beauty and utility of backyard decoration lights lie in its aesthetics, functionality, and safety. Its charm lies in proper installation and ongoing maintenance. By investing time and care into these two processes, your backyard lighting can continue to sparkle brightly, enhancing your outdoor experience.
Backyard Decoration Lights
While practical backyard decoration lights are essential in your backyard, decorative lights add vibrancy and personality. These lights effortlessly combine functionality with aesthetics to make your backyard an experience, not simply an area.
The unique pieces of illumination turn a casual get-together into an entertaining evening event that often becomes the talk of your guests. Here are some captivating backyard decoration lights professionals recommend for creating an outdoor space that truly sparkles:
1. Fairy Lights
These miniature bulbs that twinkle like stars in the night sky can instantly create an enchanting and romantic ambiance in any backyard. Professionals recommend stringing them overhead in an undulating pattern or weaving them intricately through garden trellises for maximum effect and visual impact.
Their subtle glow provides just enough illumination without becoming overwhelming. This creates a mesmerizing experience that genuinely captivates visitors to any venue. Proper installation by professionals ensures maximum visual impact and longevity for these lights. Besides, it will enhance visual impact while increasing visual impact and longevity.
2. Paper Lanterns
Paper lanterns add tradition and style to outdoor settings, offering a distinct combination of tradition and style that blends seamlessly. Coming in various colors, shapes, and designs, they can transform your backyard into an inviting sanctuary. However, their placement requires professional expertise.
Expert lighting designers can expertly suspend these lanterns at various heights and locations, creating depth and dimension that adds dimension and depth in harmony with other parts of your landscape.
3. Mason Jar Lights
Mason jar lights add rustic charm and warm lighting to your outdoor space. These charming fixtures can be filled with string lights or candles for an inviting glow that encourages relaxation. Their charming appeal harkens back to simpler times, while their appealing vintage aesthetic brings charm into any backyard space. These fragile lights require professional installation to prevent accidents while upholding the aesthetic appeal.
DIY Modern Backyard Lighting Ideas
Looking to add your personal flair to your backyard lighting? DIY may be tempting, as we understand and value its importance. But remembering professional services ensures the highest-quality results and longevity. They will prevent any mishaps while also ensuring your garden remains well-lit and secure.
Let's consider some DIY ideas that might act as your motivation:
Wine Bottle Lights: Put old wine bottles to good use by inserting string lights inside them, creating an eye-catching and stylish outdoor area with their glowing tinted glass surface.

Tin Can Lanterns: For an enjoyable rustic project, old tin cans make excellent lanterns. Simply punch holes in various patterns into them and insert a candle for an endearing lantern effect.

Mason Jar Solar Lights: These are an eco-friendly way to combine solar power with a rustic aesthetic. Simply take an old mason jar, add solar-powered LED lights, and voila – solar mason jar lights of your own creation.
Conclusion
Modern backyard lighting can add both atmosphere and functionality to your outdoor space. From functional to decorative options, numerous stylish backyard lighting choices suit functional and cosmetic needs. You'll find the ideal backyard lighting solution by considering your requirements and outdoor space style. While DIY installations might tempt you, hiring professional services guarantees the safe installation of these beautiful art pieces.