Top Outdoor Hardscapes for Summer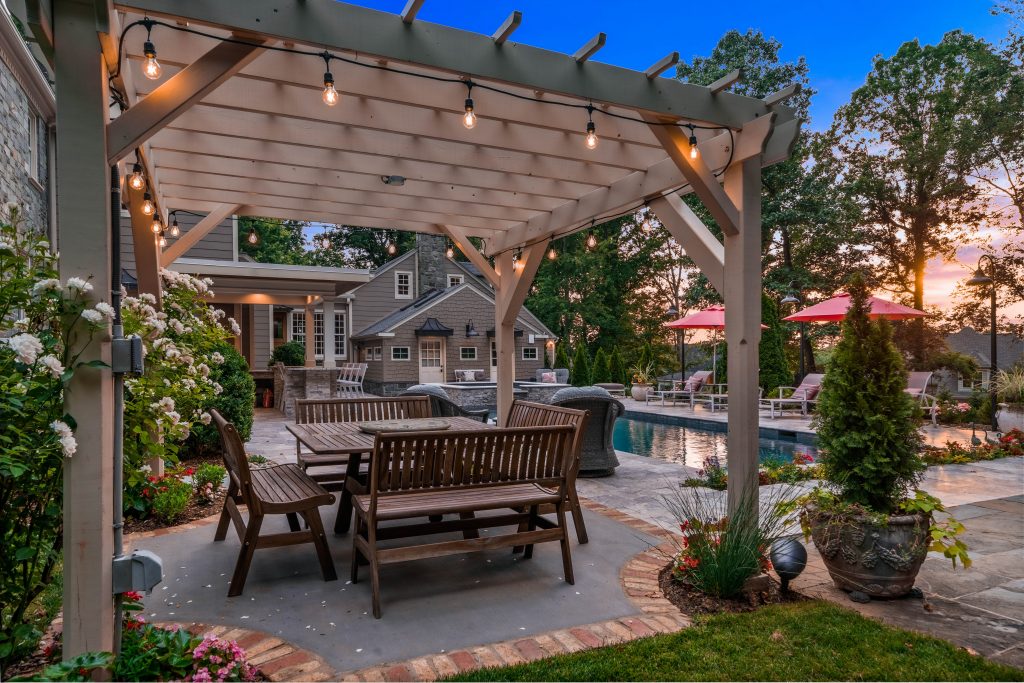 When the warmer months roll around, many of us are desperate for some time in the great outdoors. For those who already know that their outdoor living space needs a face-lift, it can be challenging to know what is the best way to go about making the outside as inviting and functional as the inside. The outdoors are always a hotspot for some great fun. It can be easy to get bored with your garden or backyard, so it is good to create some new entertainment options for your summer fun. With a bit of imagination and effort, you can transform your outdoor space into a fun and entertaining place that keeps you coming back for more every day.
Top Outdoor Hardscapes for Summer
1. Decks
This is number one for a reason. Lots of people can't imagine their backyard without a deck — it's one of the most popular spots for entertaining and hanging out when the weather heats up. A nice deck with a sturdy railing, solid stairs, and plenty of space for a table and chairs is a go-to hardscape design element. Add some lights so you can stay out there after the sun goes down, and you've got a perfect spot for summer parties.
2. Patios and Balconies
There are many benefits to having a patio or balcony in your backyard. They look great, and they're also great places to relax during the hot summer months. These spaces also allow friends, family, or even yourself to enjoy time together outside these spaces. If you don't have enough room for a large patio, then try starting small with one section at a time.
3. Garden Wall
A garden wall is a great option that can be used to add some privacy to your backyard. It can also be used with other hardscapes to create an inviting environment. Retaining walls are important to building certain types of planting areas, and decorative ones can add a lot to your space. Some areas have created scenes within their garden walls where you can set up a location for an event or even as a small stage for live music and entertainment.
4. Ponds and Waterfalls
A pond can be a great way to add a water feature to your outdoor hardscape. It will help liven up the area and even add some lovely plants. If your pond has a waterfall, it is even more appealing as it will create some pleasant noise in the backyard. It is an excellent option for entertaining guests, especially if you have a pool in your backyard.
5. Gazebo
A gazebo may not seem like a necessary item, but it is an excellent option for entertaining. If the gazebo you choose as part of your hardscape design is large enough, you could have events and gatherings there. And if you'd rather opt for a smaller and understated gazebo, you'll still have a nice place to sit and enjoy the rest of your landscape. Gazebos let you fully experience the joys of being outside while also having a roof over your head, which lends itself well to many types of weather.
6. Firepit
Having a built-in fire pit in your backyard is a great idea. It will allow you to create some fun and entertaining times by having a fire at night and adding some warmth to the atmosphere. The summer sun can be oppressive, but once it sets, an evening chill can set in, even during the hotter months. A fire pit is a great option for taking the party into the night, or for extending the length of your outdoor entertaining season into the cooler fall months. There are many great options for building your fire pits, such as using bricks, wood slabs, and other outdoor supplies.
7. Water Feature
Adding a water feature to your outdoor hardscapes will help to create an even more excellent feeling in your yard. It is an excellent idea if you are looking for something different and fun. You can take this opportunity to add some plants or even fish around the water feature to create a more relaxing area. It is a great way to enjoy your backyard when you want something comfortable and unique.
8. Bridges
These go hand-in-hand with those water features or ponds we've already mentioned. If you've got a big enough space, you might want to consider adding a bridge to your hardscape design. It is more of a unique idea, so if you're not looking to push the boat out too far on outdoor hardscapes, maybe skip this one. However, if you're looking for a way to set your backyard apart from every other cookie-cutter home on the block, a bridge over a large pond could be just the thing.
9. Fountains
Adding a fountain in your hardscape design will help add some water and movement around the yard. It is an excellent option for creating some entertainment areas naturally without any work at all. Fountains can help make some friendly light shows at night. They are also a great space to add some fish or even flowers.
10. Hardscape Pergola
Building a pergola made from hardscape design material can be a major upgrade to your yard. If you're not familiar with the term, a pergola is a structure that has a partial roof and no solid walls. It might be connected to your house, but pergolas can also be constructed completely free standing. They're a great choice for adding outdoor living space to your backyard — create a seating area under that partial roof, and you've got an ideal spot to relax or to entertain when the weather's nice. 
11. Sun Shelters
Building some sun shelters is a great idea to make your outdoor hardscapes more inviting during the summertime. These shelters can be a great place to sit in the shade during those hot days. They will make you feel like you are in a small oasis, protecting you from the harshest of the sun's rays.
12. Planters and Benches
If you are looking for more seating but don't have room for a full-size bench, building some smaller ones is the next best thing. It will allow you to create an excellent area to relax and enjoy the company of others. Adding planters will help to make this space even more appealing as well. Skilled hardscape design professionals might even be able to create a planter that doubles as a bench. If you're low on space, you should ask 
13. Dividers and Hedges
Creating dividers in your outdoor hardscapes is often overlooked, but if you're trying to separate different spaces in your yard, these structures can be super helpful. It is also a great way to make the area feel more intimate and private. By building these dividers, you will be able to create some fun areas like having plant beds or even having fire pits with seating. It is also a good idea to do if you have a pool in your hardscape design.
14. Outdoor TV Units
Large TVs can be an excellent addition to your outdoor hardscapes. You can place them near a pool or maybe even in the middle of a tree to create some entertainment. It is especially true if you have a large family and want to give everyone their own space simultaneously. You can also pick up one that can display and play media, such as a DVD player.
15. Stamped Concrete Makeover
Stamping is not just a great way to apply paint and other forms of hardscape design material; it can also be used on concrete. It is a great idea for giving your concrete a more modern and attractive look. You can pick up different forms of accessories to complete the look you are going for in the outdoor hardscapes.
16. Rock Structures
If you would like to have a fun theme in your outdoor hardscapes, then creating rock structures may work well for what you want to accomplish. It will allow you to build things like bridges, tables, and even seating areas, all out of rock.
17. Terrace Garden Design
Sometimes you may not have a lot of space to work with, but that doesn't mean there isn't anything you can do. Creating a terraced garden is a great way to add some plants and greenery to your outdoor hardscapes. Adding colors, lines, and trails can make this hardscape design stand out even more.
18. Patio Table and Chairs
Having patio chairs and a table outside is a great way to add another place to relax, but this is often best paired with some of the other hardscape design elements on this list, like some form of shade structure. Having these things together in one place will help keep the outdoor hardscapes cool.
19. Hot Tub Enclosure
Hot tubs can be a great place to relax and get away from everything. So why not make it more appealing by building an enclosure around it? It will allow you to enjoy the hot tub throughout the year because you don't have to worry about bugs or other things getting inside your hardscape design that could ruin your experience. It should be done to keep your hot tub clean as well.
20. Rockwork Designs
If you want to create more rugged outdoor hardscapes, then rockwork designs can work well. It is a great way to make your backyard feel more natural, but at the same time, it will give you something fascinating to look at. By using rocks that match the colors of your hardscape design, you should be able to create a unique area that fits perfectly with the surrounding areas.
21. Swing Sets
This one is an especially good idea if you're trying to create family-friendly outdoor hardscapes. Having swings in your hardscape design is always a good idea because it gives kids something fun to do during the summertime. There are so many different types of swing sets that you can build for your kids, so you should be able to find one that fits all of their needs and wants as well as blends into the rest of your hardscape design.
22. Outdoor Kitchen
Decorating your outdoor kitchen is one of the best ways to make it stand out in your outdoor hardscapes. It can be done by adding some lovely countertops, cabinets, and even a sink. You should be able to find some different ideas online if you are not sure how to set this up for yourself.
23. Grapevine Arbors
Grapevines are a great thing to have in outdoor hardscapes because they are a natural element that can soften the harshness of manmade hardscapes. You can use different grapevines to add a nice touch of color to structures such as arbors or fences. It can also work well to help provide some shade when you want to be outside in the hot summer months.
24. Poolside Amenities
Having some poolside amenities can be a great way to have something fun to use while swimming or sitting by the pool. Having poolside amenities will allow you to have some fun things to play with in your outdoor hardscapes, but it will also provide an excellent way for you to relax. These are also a good idea if you want your guests to enjoy themselves more because they will have something to do instead of just sitting around your hardscape design.
25. Outdoor Seating Sofas
Having some outdoor hardscapes sofas is an excellent idea because it can provide you with something to use during the spring and summer months. It will be a great idea if you have some nice furniture that would look amazing out on the patio or outside. You can also transform your outdoor hardscapes into a place that has been used for seating because all you will need is some lovely throw pillows, and you are good to go.
Conclusion
When it comes to building a hardscape design, there are many different ways to do it. There are so many hardscape design elements available, from landscaping to outdoor hardscapes or even solid structures. You should be able to find something that makes you happy and will use it all summer long. When designing a backyard design, you should think about your needs and make sure that it meets those needs. Making sure that your hardscape design will meet your wants, conditions, and desires. Using different materials and different colors can help make everything come together nicely.            
If you're looking for hardscape design professionals to help you make your backyard dreams come true, start with us here at Hydro Dynamics. You can contact us here to start a conversation about what we can do for your yard. We look forward to hearing from you!