STL Hardscapes: Tips, Inspiration, and More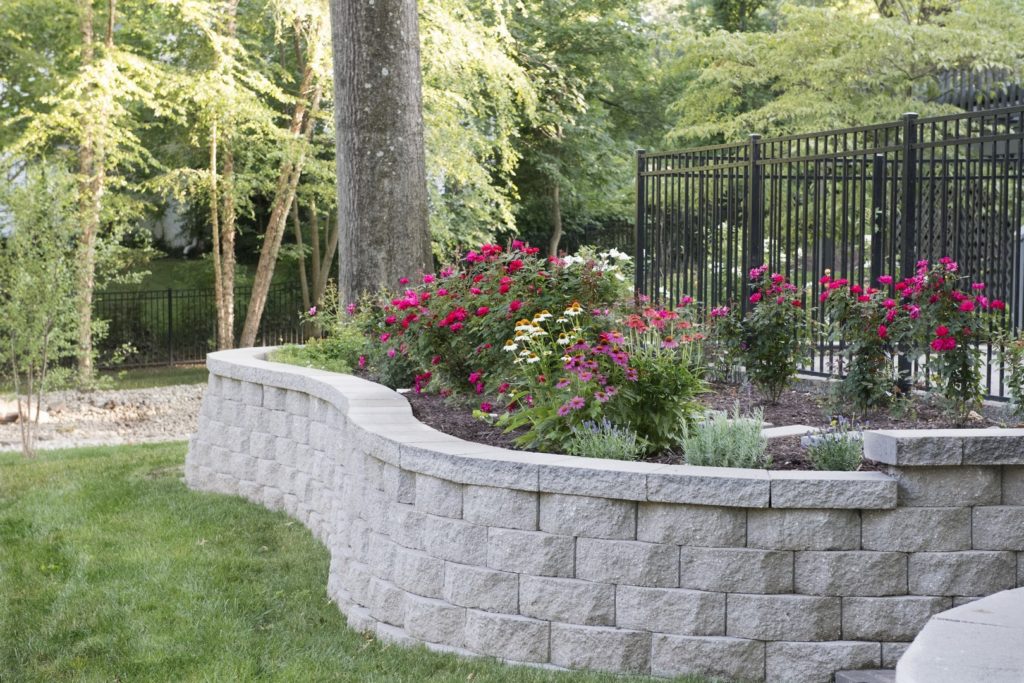 Whether you have a large or small outdoor space, you have room for hardscaping. You'll find that STL Hardscapes make your outdoor space more livable. It also reduces the time you spend maintaining that space so that you can spend more time living in it.
What Is Hardscaping?
Hardscaping refers to any part of your landscaping that is built or constructed. It includes your outdoor lighting, sidewalks, the steps up to your house, porches, decks, patios, pergolas, fences, walls, and even your driveway. It also includes features that you might not have yet but that you might enjoy in your ultimate hardscapes such as water features, meditation gardens, outdoor exercise spaces, a swimming pool, play areas for children and pets, outdoor dining spaces for two or for entertaining family and friends, fire pits, outdoor kitchens, and outdoor entertainment centers.
Hardscaping establishes the framework for locating the features that you want to include. You can compare it to the features of your home that frame the interior, such as walls, stairways, hallways, the location of plumbing and electrical outlets, and the placement of built-in cabinetry and kitchen islands.
Hardscaping also directs the way people move through your outdoor spaces, and it directs the way that rainwater flows around your property. You can even add clever ways to collect rainwater and use it to water the trees, shrubs, and plants you include in your landscaping.
Where to Start Designing STL Hardscapes?
It may seem like a lot to consider, but don't let the choices overwhelm you. You don't have to do everything all at once. Hardscaping can be a gradual process during which you add features over time. If you need help getting started, we at Hydrodynamics St Louis will be happy to meet with you and offer suggestions and guidance.
When you're planning your ultimate hardscapes, you actually start at the same place as you start when designing the interior of your home. You look at the space you have, sit down with anyone else who will be living in that space, and begin writing down a list of ideas of what you want to include. Remember, this is a brainstorming session, so don't worry about whether all of the ideas will fit, what the budget will be, or whether the ideas are practical or impossible.
Once you have a list of ideas for your STL hardscapes, download a landscape planning app or draw a map of your yard on graph paper and begin deciding how much space to assign to each idea and where it should go in relation to other ideas.
Some ideas will naturally combine. For example, a large patio in your STL hardscapes can accommodate an outdoor kitchen, and an outdoor dining area, an outdoor living room with cabinetry for an outdoor entertainment center, and a cozy area with a fire pit for quiet conversations.
This brainstorming session provides you with the ideas that you'll include in your master plan for adding to your hardscaping and landscaping design over time. At Hydrodynamics St Louis, we'll help you to select and schedule the projects that provide the foundation for your hardscaping and landscaping design first. Then we'll add the projects that build off of that foundation in the order of the ones you want to start enjoying ASAP and that you're willing to wait on for a while.
Examples of projects that lay the foundation for your STL hardscapes are an irrigation system that directs water toward water features, a water garden that collects runoff from your yard, vegetable and herb gardens, flower beds, and your lawn. Another foundational project would be installing electrical wiring to provide power for outdoor lighting and the pumps and filters that aerate and clean the water in your water features.
What Are the Trends in STL Hardscapes?
Smaller lawns

Multi-level or tiered decks

Outdoor living rooms

Sheltered areas on your deck or patio

Fire features

Intricate geometric patterns for flooring, pathways, and even driveways

Molded cement

Sustainable hardscaping products

Rain gardens
Smaller Lawns
For one thing, smaller lawns have been a trend for some time now for several good reasons. The larger your lawn is, the more time you have to spend on mowing, watering, applying fertilizer, and removing weeds or applying weed killer. In addition, the larger the lawn you have, the more water, fertilizer, and weed killer you need, and the more money you have to spend on providing your lawn with those things that keep it lush and green. Hardscaping some of the area that is now occupied by your lawn frees up the time and money you were devoting to your lawn while providing you with ultimate hardscapes that are instantly usable for activities you enjoy.
Multi-Level or Tiered Decks
When you're entertaining, including multi-level or tired decks in your STL hardscapes allow you to focus on different activities on different levels so that your guests can enjoy the activities they want to enjoy and just observe others. You might serve food on one level that includes a dining and conversation level while you have games or dancing on another level. If you have a swimming pool, guests on another level can enjoy a swim and then sit in poolside chairs, and guests on other levels will know where the wet chairs are.
Outdoor Living Rooms
The kitchen isn't the only room in your house that's moving outside in STL hardscapes. The living room is joining it. Outdoor living rooms include big-screen TVs so that you can watch movies or concerts under the stars right from your patio or deck. Of course, the TVs are kept safe from the elements in weatherproof cabinets when they aren't in use.
Sheltered Areas on Your Deck or Patio
When you have such a nice ultimate hardscape, you, your family, and your guests will want to stay outside and enjoy it for as long as possible. Having Hydrodynamics St Louis create a shelter over part of your deck or patio means that, if a rain shower comes up, no one has to retreat clear inside your house. You just move under the shelter. Shelters can include a sunroom, a screened-in area, a patio roof, a pergola, space under a deck for a room on the second story of your home, a gazebo, an awning, or a sail.
Pergolas are particularly versatile for ultimate hardscapes. They can be large enough to cover an entire deck or patio or only part of it. They also can provide a stand-alone shelter for a garden bench. A sturdy pergola with a staircase can provide an extra seating area for your St. Louis hardscapes. You also can top a sturdy pergola with a roof of planters and suspend potted vines or flower plants along the sides in lieu of tieback curtains.
If you hang tie back outdoor curtains along the sides of a pergola, though, you can easily change the color to suit the occasion – a bright, festive color for a lively party, white for bridal shower or reception, pink or blue or both for a baby shower. In addition, you can have panels made to fit the openings in your pergola, have them covered with waterproof materials, and insert them in the pergola's openings whenever rain might threaten one of your gatherings.
Fire Features
If you are looking for still more features that allow you to live in your ultimate hardscapes for as long as possible, consider one or more fire features. Fire features not only include fire pits and outdoor kitchens but also outdoor fireplaces. Fire features allow you to continue enjoying your patio on cool nights and well into crisp fall weather. They are joining water features as popular hardscaping items.
Intricate Geometric Patterns for Flooring, Pathways, and Even Driveways
As you might expect with indoor rooms moving outside, what appears under your feet in your St Louis hardscapes receives more attention. Create patterns with pavers or bricks by making use of different colors. Bricks and half bricks also can be laid out to create various geometric designs.
Wood and composite deck flooring not only can be laid to create different patterns, but wood can be cut at an angle and composite flooring can be molded to create still more patterns. In addition, composite flooring can be molded in curved shapes to create arcs and circles.
Not to be left out of your ultimate hardscapes, cement also can be molded into a variety of shapes, and it can be tinted to mimic natural stone or to complement the colors of your home décor. Composite flooring also can mimic wood or take on a variety of tints.
Molded Cement
With the popularity of industrial design and minimalism, molded cement has become a popular hardscaping material for some St Louis hardscapes, which is something you might not expect. It's used to create fountains, of course, but it's also being used to create planters, seating, and picnic tables, and benches. It's often paired with iconic farming implements such as hand plows or lanterns used for lighting.
Sustainable Hardscaping Products
As with home building and remodeling projects, sustainability is another trend in St Louis hardscapes. Stone pavers, decorative boulders, gravel for pathways, and rocks for rock gardens are being sourced locally.
Gravel and other permeable materials that let rainwater soak into the ground are favored for walkways.
Wood from barns and other local sources are used in constructing hardscaping features such as decks and planters.
Composite deck materials use wood by-products that would otherwise be waste products. The wood by-products are mixed with resin, which creates a low maintenance material that won't stain, mold, mildew, or be attacked by termites or carpenter ants. It also resists scratches, and it does not require sanding and restaining every two years or so as wood decks do.
Rain Gardens
Rain gardens combine hardscaping and softscaping (selecting and installing trees, shrubs, and plants).
To select the best site on your property for a rain garden, you'll need to go outside when it's raining and observe how the rainwater flows across your lot. You probably already know where it collects, because you know which parts of your lawn remain soggy the longest.
To create a rain garden, Hydrodynamics St Louis will create a hardscaped, stream-like channel that follows the natural path of the rainwater to the lowest part of your yard where the water congregates. The stream can even start at a downspout to collect water from your roof.
We'll excavate the lowest part of your yard where the rainwater naturally collects, to install a filtration system that includes pea stone and gravel. An unlined pond at the center of the rain garden provides a temporary holding place for the water.
Rain gardens use native wetland plants and the filtration system to remove lawn chemicals and other impurities from the water before it returns to the water supply.
STL Hardscapes That Enhance the Appeal of Your Home
If you're considering selling your home and you're looking for ultimate hardscapes that will attract buyers or if you might consider selling your home within the next five years, then you should focus on adding a deck or patio if you don't have one or improving the deck or patio that you have.
Your deck or patio should flow naturally and invitingly from the interior of your home so that it functions as an extension of the indoor living space. Hydrodynamics St Louis will design it so that potential buyers immediately see it as an additional living room where they can gather with their family and friends.
If the deck or patio you have lacks a sheltered space, Hydrodynamics St Louis can create one while keeping an open, airy feel. A pergola is a particularly good option.
A fire pit will let potential buyers imagine using ultimate hardscapes on cool nights, and an outdoor kitchen will have them thinking of food and fun.
Ultimate Hardscapes Just for You, Your Family, and Your Friends
If you have no intention of selling your home in the near future, indulge in creating any ultimate hardscapes that please you. If your family and your friends love swimming, for example, by all means, invest in a pool. Pools, and ponds as well, will have some potential buyers thinking of the time and money spent on maintenance. Parents also might see a pool as a safety hazard for young children. Even when a buyer might like your pool, pools don't provide a high enough return on your investment to undertake if you might sell soon.
Lighting Suggestions for STL Hardscapes
The most important areas of your home to light are the garage and the exterior doors. You should be certain all of these are well lighted. You might also want to consider lighting the walkway to the front of your home. Lighting your front walkway not only looks inviting, but it also allows your family and guests to see where they are walking, reducing the chances that anyone might trip and fall. Lighting the edge of your driveway serves the same purpose.
If you have a patio or deck, you'll want overall lighting, of course. Having Hydrodynamics St Louis install lighting around the edge of the patio or on the railing of a deck and within the posts supporting the handrails of any stairs ensures the safety of everyone using your deck or patio at night. You can even have Hydrodynamics St Louis install lighting within the floor of your deck or patio.
If you have a patio, a gazebo, or some other area that is separated from your house and that you might use in the evening, consider lighting the pathway leading to it. If you might want to look at the stars from that space, you could install a switch to turn the lighting off, but take a flashlight with you so that you can find the switch again when you're ready to go back inside.
As with a deck or patio, if you have a swimming pool as part of your ultimate hardscapes, you can have lighting installed within the flooring around your pool.
Accent lighting is an attractive feature to add. You can use it to highlight interesting plants in your landscape, particularly unique or attractive features of your home's architecture, or water features such as a waterfall or a fountain.
Low or moderate levels of brightness look most warm and inviting for your St Louis hardscapes. Lighting that is too bright looks harsh and garish. If you're planning to sell in the near future, lighting your home can make it stand out from the homes of other sellers. Most potential buyers look at home in the evening after they are off work. So they are most likely to see your home with the lights on. A well, lighted home looks like a welcoming, safe haven.
Contact us at Hydrodynamics St Louis, and let us help you get started with the plans for your ultimate hardscapes.