What is Lawn Irrigation: A Beginner's Guide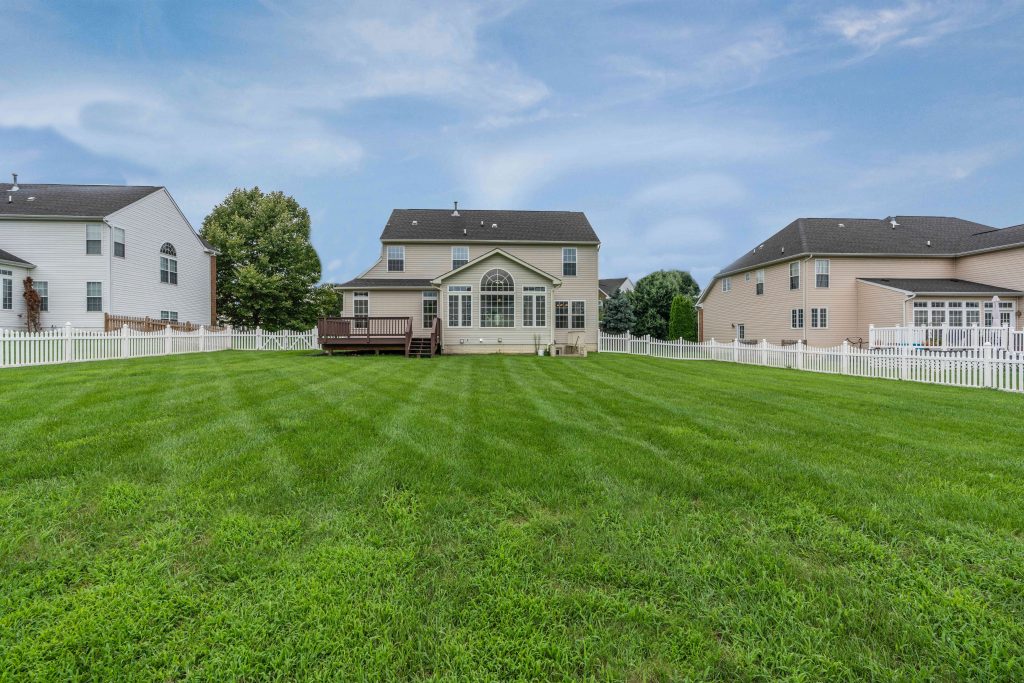 Many people don't understand lawn irrigation and that their lawns' health relies on keeping their garden hydrated. For beginners, practicing lawn irrigation can be daunting and confusing. So what is lawn irrigation, anyway?
Lawn irrigation isn't a one-off activity, meaning it is significantly detailed and requires you to be well versed in all it entails. The following are the measures to consider when developing a lawn watering system.
When to water your lawns, including the specific times of the day

How frequent you should water the turf and how much water is considered sufficient

The rate of water penetration

Where to water

What tools are needed and what is lawn irrigation
When the Lawns Should be Watered
Mornings are the most appropriate time to put in action the lawn watering system for your turf, since the air is cool during this time of the day. The water is more likely to penetrate deeply and hydrate the grass. Specifically, the best time to water your garden is between 4 am and 10 am.
Midday is not the best time to water your garden for several reasons. For instance, the warm temperatures cause high rates of water evaporation. This aspect minimizes water penetration into your sod.
Evenings are also not the optimal time to water your lawn because during this time, chances of fungal growth on the grass are significantly high. Besides, water doesn't adequately infiltrate into the grass. Instead, the moisture grips into the blades of the grass throughout the night resulting in grass diseases.
It is better to hose down your lawns on weekend mornings instead of doing it in the evenings after work if you cannot water the grass between 4 am to 10 am. Having sprinklers that can be set on a timer is the best-case scenario. The advantages of irrigation that are timed effectively are that it lightens the burden of getting up early to water the lawn and ensuring the turf is uniformly watered.
Frequency of Watering the Lawns and How Much Water is Considered Sufficient
The frequency of watering your lawn is less significant than the amount of water that the turf needs to remain healthy. A lawn typically needs at least one inch to one and a half inches of water per week all year round.
Due to evaporation, you will need to wet the lawn more frequently during summer months or if residing in an area that mostly consists of hot temperatures. Heat tends to dry out grass, which contributes to insufficient hydration and adverse lawn health. It is better to water your lawn deeply 2-3 times per week than to do so inadequately daily.
You should also be mindful that overwatering your grass causes more harm than good. Inadequate watering spoils your lawn's health while too much water penetration leads to the shallow root system.
The Rate of Water Penetration
Different types of soils require and absorb different amounts of water. You need to know the specific type of soil your lawn consists of before coming up with the watering system.
Soil is usually a combination of sand and clay, also known as loam soil. Loam soil does not retain water very well, but clay tends to retain moisture much better. The vital issue in clay soil is that water penetration is slow.
A procedure that will help you determine whether your lawn is adequately hydrated is the use of a screwdriver. If you have a difficulty or cannot drive a 6-inch screwdriver into your turf, it needs more watering. The reasoning behind the trick is that when you water your grass, the water should moisten the soil approximately 6 inches deep.
You may need to set aside a day when time constraints will not obstruct to do the screwdriver procedure. While watering the lawns, check the soil after approximately 15 minutes by using a screwdriver or shovel to see how far the water has penetrated the ground. From there, track the time it takes for the water to penetrate 6 inches deep.
The said procedure will guide you in knowing the duration of time that your turf will need to be watered regularly to receive proper penetration. It will also prevent you from over or under watering your grass. Such practices help you come up with a better conclusion of what is lawn irrigation.
Where To Water
You should focus on the root zone when coming up with a lawn watering system. The plant's roots absorb the water and nutrients in the soil, not the leaves. Too much wetting of the leaves is a waste of water and can promote diseases.
What Tools are Needed for The Irrigation
Advantages of irrigation right tools for the job ensures you can easily get the watering done while abiding by all the rules and guidelines needed in the lawn watering system. For instance, you may install a sprinkler irrigation system instead of a drip lawn watering system for efficient watering of all the parts of a lawn.
There are different effective lawn watering systems. You need to develop the most convenient and suitable method of watering your space
Watering By Hand
This is the traditional irrigation method that has helped most people understand what is lawn irrigation. It involves either using watering cans or garden hose. This method of irrigation is significantly effective when done right.
It recommended always to use a spray nozzle with a trigger to minimize water wastage in this lawn watering system. If you were just to use a garden hose with an open end, you would waste so much water unnecessarily since the water keeps pouring out with no control. The advantages of irrigation by hand is you can judge whether or not a plant needs water and how much of it.
For the hand lawn watering system to be effective in grass watering, a few tips need to be emphasized. The following are the measures to be considered for the irrigation to be efficient.
Use a Spray Nozzle With a Shutoff
Using a spray nozzle with a shut off will help in minimizing water shortage. It is one of the most recommended techniques for its water-saving efficiency.
Use the Lift Test
A simple way to check if a plant needs water is to lift the container. Over time you will know how heavy a plant should be when it has sufficient water—if it is too light, it needs watering. However, the lifting test can't be done with plants in the landscape, so checking the soil moisture will have to be done.
Keep Your Garden Hose Tidy
It is very stressful trying to navigate your garden with a dirty, kinked, and twisted hose. Keep it tidy, and you'll find watering the garden each day not being such a chore.
Take It Slow
Water that does not soak the root zone is wasted and spraying too much too quickly will run down the outside of the root ball. A factor that people who do not know what is lawn irrigation cannot understand. Slower, gentler watering is more effective, especially in the hand lawn watering system. The key advantages of irrigation that emphasize working with your hands ensure water gets to the root zone and ill plants.
There are other lawn watering systems that are more effective than the hand watering technique. The following are the three main types of modern-day irrigation you need to consider.
Sprinkler  

Drip or trickle irrigation

Surface irrigation
Sprinkler Irrigation
In this lawn watering system, water is distributed throughout the air, similar to how rain comes down. Sprinkling devices can be set momentarily and then moved intermittently based on time and the amount of watering desired.
There are two systems of sprinkler turf watering systems giving in-depth analysis of what is lawn irrigation. These include the pop-up sprinkler system and the mini sprinkler system.
An excellent way to water a garden is to use a pop-up sprinkler system. The pop-up sprinklers are only seen when the system is activated and retracts back down when the watering has finished being installed entirely underground. The pop-up sprinklers provide better coverage than any other type of lawn sprinkler and are much more efficient, reducing water wastage.
Mini sprinkler lawn watering systems are similar to the microjet and sprays systems though they sit above the ground and are used to cover large areas. Instead of providing a fine soaking spray, they have a rotor jet that delivers heavy water droplets. Advantages of irrigation methods using the mini sprinklers are that they can cover areas up to 5 meters radius and wet the ground evenly, meaning they are great for large landscaped areas.
A pop-up sprinkler system is the most appropriate for automated garden irrigation and requires little effort, although it can be costly for large areas. An above-ground sprinkler is what gardeners typically use to care for their grass.
Drip Irrigation
This lawn watering system is a micro-irrigation technique in which water is supplied through emitters as droplets or little streams to the soil surface. The water distribution rate of these emitters is low enough to be used on almost all soil types. Advantages of irrigation systems that use drip irrigation are that the technique applies less pressure and flow than traditional sprinkler systems.
Surface Irrigation
This type of lawn watering system is mainly used on large plots of land. It consists of a wide range of irrigation techniques in which water is dispensed over the soil's surface through gravity flow. In short, the watering process takes place by a sort of controlled flooding on the land
Sub-Surface Irrigation
In this watering system, water is applied beneath the surface of the soil. The specific technique that should be used is normally dependent on how deep the water table is.
Regardless of whether you decide to water your lawn manually by using a hosepipe or using sprinklers, you should be aware of what is lawn irrigation. In general, lawn sprinklers built into the ground are the best systems for lawn watering, primarily because they are efficient.
Cost-benefit
Lawn sprinklers are worth the investment if you plan to live at your current residence for a long time. However, if you do not want to invest in an underground lawn watering system, the next best option is a pulsating, revolving sprinkler connected to a garden
Revolving sprinkler discharges the water horizontally at high speed; therefore, it is not susceptible to evaporation and wind. The oscillating sprinkler discharges water vertically. Pulsating sprinklers can be considered ideal for an established lawn.
Although pulsating sprinklers are an optimal choice for lawns composed of mature grass, they can cause more harm than good to new turf. The powerful water flow of pulsating sprinklers can wash away the seeds of new lawns. Alternatively, advantages of the irrigation using oscillating sprinklers allow the water that is discharged to land more softly onto the turf, thus causing minimal to no harsh impact on the seeds.
Lawns that are part of new housing developments in which the topsoil was removed tend to consist of tough soil that is difficult for water to penetrate. In these instances, if you know what is lawn irrigation, you are encouraged to water your home turf in approximately 30-minute phases with intervals in between to soften the ground so that the water can break through the soil.
According to the type of soil in your turf, it is suggested that each zone be watered for approximately 15 minutes. The advantage of the irrigation time is that it allows enough time for the water to penetrate 6 inches. If you are using a sprinkler system and you do not understand what is lawn irrigation, set it to one zone with the use of a timer and then set it to move to the next zone once 15 minutes have passed.
Conclusion
A newly seeded home turf should be watered for just about 10 minutes in the morning and 10 minutes in the evening daily. The watering time interval should provide your grass with adequate water to keep the top layer soil moist. You can begin to water the grass deeper and less often once the grass begins to grow and bloom.
It is fairly safe to conclude that you now know what is lawn irrigation and have a good understanding of the best practices and steps to maximize your turf's health. Knowing what is lawn irrigation, when, how, and the best times to water your lawn is the key aspect of turf care that all gardeners, homeowners, and landscapers should know. For more information on lawn irrigation, call us at (314) 279-0798 or check our services in our website Hydro-Dynamic Corp.